Argentina 0-2 Nigeria: Flying Eagles soar into U-20 World Cup quarter final
Bosso had promised that his team would give their all, and they certainly delivered on that promise from the opening minutes of the game as they broke a 12-year jinx of making it to the quarter final
Flying Eagles

Nigeria sent shockwaves through the FIFA U20 World Cup as they knocked out host nation Argentina with a stunning 2-0 victory in the Round of 16.
Goals from Ibrahim Muhammad and Rilwanu Haliru Sarki ended the dreams of the six-time champions and left the Albiceleste Sub-20 shell-shocked.
In an electric atmosphere in western Argentina, the Flying Eagles displayed a masterclass in defensive organization and lethal counter-attacking football.
Head Coach Ladan Bosso had promised that his team would give their all, and they certainly delivered on that promise from the opening minutes of the game.
Muhammad came close with a snapshot from the edge of the box in the 9th minute, setting the tone for a spirited Nigerian performance.
The Argentinians had their chances too, including a threatening header in the 39th minute, but it was Nigeria who emerged with renewed vigor in the second half.
Goalkeeper Chijioke Aniagboso made a crucial save from Barco in the 51st minute, while Jude Sunday's effort was held by the Argentine goalkeeper.
Nigeria's dominance was evident when Nnadi struck the underside of the bar with a well-placed shot from outside the box in the 58th minute.
The breakthrough finally arrived three minutes later when a long ball from Aniagboso found Umeh, who cleverly played it through to Muhammad.
The Nigerian forward outpaced the defenders and calmly slotted the ball past the onrushing goalkeeper to give Nigeria the lead.
Umeh had an opportunity to extend the lead shortly after but his shot missed the target. Argentina tried to mount a response, with Carboni's shot saved by Aniagboso and his subsequent header going wide.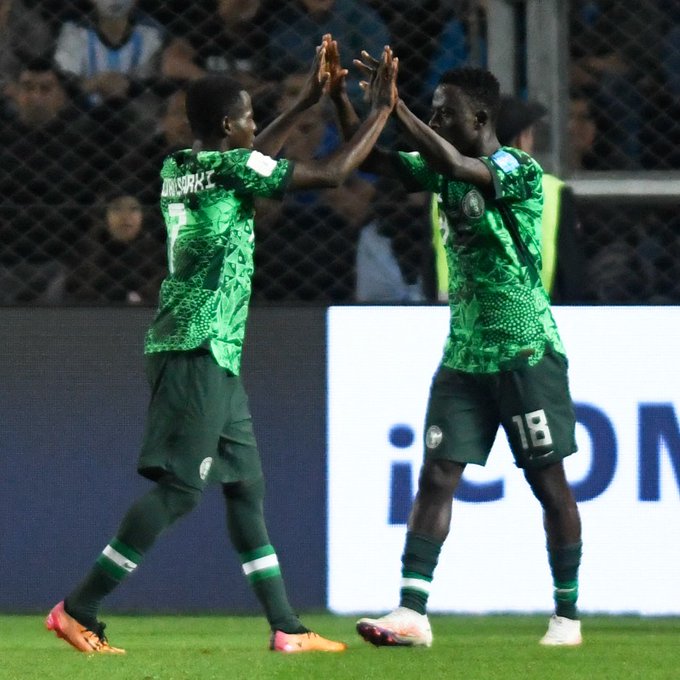 Umeh continued to pose a threat but was denied by the goalkeeper on another occasion.
The tension mounted as Romero hit the post with a deceptive shot in the 83rd minute, and Ogwuche cleared the ball off the line to deny Argentina a golden chance in the 85th minute.
As the Argentine team pushed forward desperately searching for an equalizer, they left themselves vulnerable at the back. AC Milan's Victor Eletu displayed strength and determination to control another long ball from Aniagboso and then delivered a perfect cross for Sarki, who headed the ball into the net with precision in added time.
The victory provided some redemption for Nigeria after their defeat to Argentina in the final of the 2005 edition of the tournament, where Lionel Messi's penalty brace denied them the title.
The Flying Eagles' triumph propels them into the quarter-finals, where they will face the winner of the Ecuador vs. South Korea Round of 16 clash.
This remarkable victory against the host nation will undoubtedly serve as a major confidence boost for Nigeria as they continue their pursuit of World Cup glory.