Aribo is the only Nigerian among top three earners in their clubs in EPL
Nigerians like Alex Iwobi, Joe Aribo, Wilfred Ndidi, Kelechi Iheanancho and others play in the EPL but only Aribo is among the top three earners in each of the EPL clubs
Joe Aribo

The English Premier League is the most lucrative division in world football and home to some of the highest-paid players including top Nigerian players.
Average pay packets have skyrocketed in recent years, with clubs such as Manchester United, City and Liverpool able to fork out monstrous salaries.
It's not surprising that the stars of the Premier League, such as Mo Salah, Erling Haaland and Casemiro, benefit from more money.
Nigerians like Alex Iwobi, Joe Aribo, Wilfred Ndidi, Kelechi Iheanancho and other play in the EPL but only Aribo is among the top three earners in each of the EPL clubs.
Here, are the three biggest earners at each of the top flight's 20 teams.
All figures have been independently sourced, however, some of the numbers provided are approximations and not exact figures.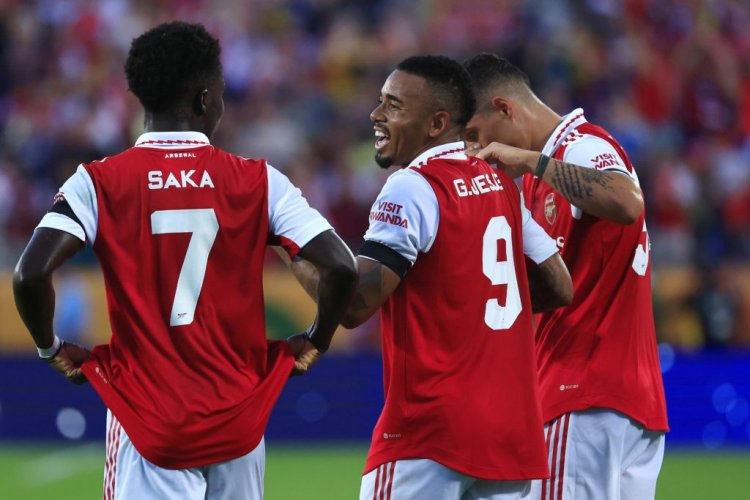 Arsenal
Gabriel Jesus £270,000-per-week;
Thomas Partey £220,000-per-week;
Oleksandr Zinchenko £200,000-per-week
Aston Villa
Philippe Coutinho £120,000-per-week;
Emiliano Martinez £100,000-per-week;
Tyrone Mings £95,000-per-week
Bournemouth
Jefferson Lerma £55,000-per-week;
Neto £50,000-per-week;
Dominic Solanke £50,000-per-week
Brentford
1.Ben Mee £50,000-per-week;
Mathias Jensen £50,000-per-week;
3.Bryan Mbeumo £50,000-per-week
Brighton
1.Lewis Dunk £72,000-per-week;
2.Alexis Mac Allister £72,000-per-week
Chelsea
Raheem Sterling £350,000-per-week;
N'Golo Kante £340,000-per-week;
Romelu Lukaku £325,000-per-week
Crystal Palace
Wilfried Zaha £130,000-per-week;
Joachim Andersen £100k-per-week;
Odsonne Edouard £65,000-per-week
Everton
Yerry Mina £120,000-per-week;
Jordan Pickford £110,000-per-week;
Dominic Calvert-Lewin £85,000-per-week
Fulham
Aleksandar Mitrovic £130,000-per-week;
Cedric Soares £100,000-per-week;
Tom Cairney £100,000-per-week;
Bernd Leno £100,000-per-week
Leeds United
1.Georginio Rutter £100,000-per-week;
2.Luis Sinisterra £100,000-per-week;
3.Patrick Bamford £100,000-per-week
Leicester City
Jamie Vardy £150,000-per-week;
James Maddison £110,000-per-week;
Jonny Evans £100,000-per-week
Liverpool
Mo Salah £385,000-per-week;
Virgil van Dijk £300,000-per-week;
Thiago Alcantara £210,000-per-week
Manchester City
1.Erling Haaland £385,000-per-week;
2.Kevin De Bruyne £385,000-per-week;
3.Jack Grealish £300,000-per-week
Manchester United
1.Casemiro £375,000-per-week;
2.David de Gea £375,000-per-week;
3.Marcus Rashford £250,000-per-week;
3.Anthony Martial £250,000-per-week;
4.Jadon Sancho £250,000-per-week
Newcastle United
Kieran Trippier £120,000-per-week;
Bruno Guimaraes £120,000-per-week;
Callum Wilson £120,000-per-week;
Alexander Isak £120,000-per-week
Nottingham Forest
Jesse Lingard £120,000-per-week;
Chris Wood £100,000-per-week;
Jonjo Shelvey £75,000-per-week
Southampton
James Ward-Prowse £110,000-per-week;
Theo Walcott £75,000-per-week;
Joe Aribo £70,000-per-week
Tottenham Hotspur
Harry Kane £300,000-per-week;
Son Heung-min £210,000-per-week;
Ivan Perisic £180,000-per-week
West Ham United
Lucas Paqueta £150,000-per-week;
Kurt Zouma £125,000-per-week;
Danny Ings £100,000-per-week
Wolverhampton Wanderers
Pablo Sarabia £90,000-per-week;
Raul Jimenez £85,000-per-week;
Joao Moutinho £85,000-per-week